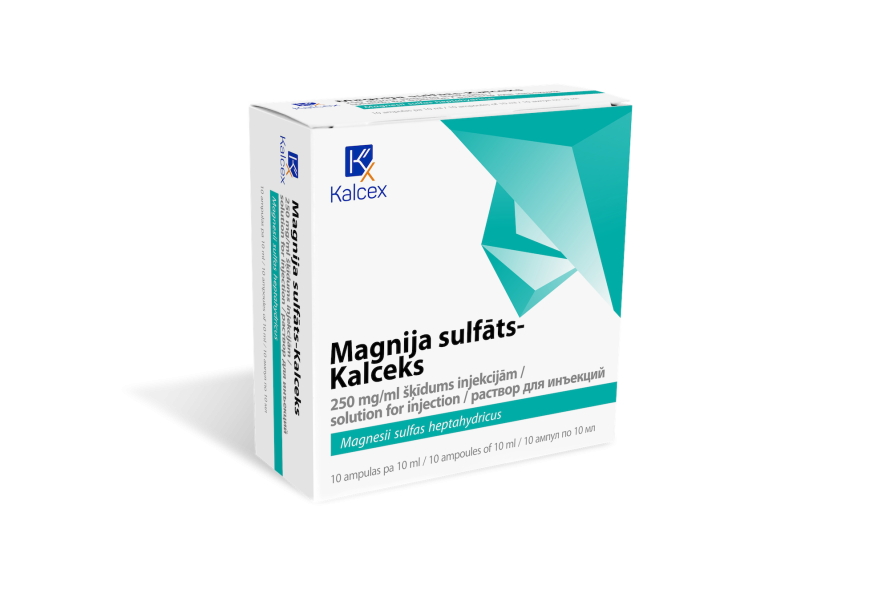 Magnesium sulfate Kalceks
Strength:
100 mg/ml, 200 mg/ml, 250 mg/ml, 500 mg/ml
Pharmaceutical form:
solution for injection/infusion
Magnesium sulfate Kalceks 500 mg/ml has also prequalified World Health Organisation (2 ml and 10 ml)
This medicine is used for:
Treatment and prevention of hypomagnesaemia in clinical conditions which may be associated with magnesium deficiency such as prolonged diarrhoea, diabetes mellitus, malabsorption syndromes, alcoholism, cirrhosis of the liver, during pregnancy and breast-feeding period, in case of renal diseases with polyuria, as well as during administration of "loop" diuretics;

Prevention and treatment of hypomagnesaemia in patients on total parenteral nutrition;

Seizure prevention (e. g. epilepsy, uraemia in patients with nephropathy);

Prevention and treatment of pre-eclampsia and eclampsia in late pregnancy toxemia, as well as to stop spontaneous abortion and preterm labour;

Treatment of the early stages of arterial hypertension as antispasmodic medicine;

Prevention of arrhythmias (e. g. torsade de pointes-type arrhythmias, arrhythmias with signs of hypokalemia).
Prescription medication. Information for healthcare professionals only. For full information about the medicine, see the Summary of Product Characteristics.
Advertising developed or revised (02.2023). Advertiser: AS Kalceks.
We are open for cooperation all over the world
Contacts for cooperation partners and questions regarding export: [email protected]
Contact